Dr Vance Gledhill's vision for change
Visionary philanthropist Dr Vance Gledhill is reinventing how individuals can help end poverty.
Dr Gledhill, a retired computer scientist and academic, had an idea five years ago while on a trip to Vietnam. His idea has helped thousands of people out of poverty while also creating an award-winning social enterprise model.
Vance's vision for change
In 2014, Dr Gledhill visited Vietnam's north-west Da Bac district, Hoa Binh province – a remote, mountainous area with a high proportion of ethnic minority groups. Hoa Binh's population is almost entirely dependent on agriculture and around 50 per cent of people are illiterate.
Dr Gledhill learned that a hydro-electric dam development displaced several farming communities from their fertile lowlands of Hoa Binh. The rugged upland terrain made villagers' traditional farming practices ill-suited to meet their daily needs.
However, Da Bac offers some of the most magnificent scenery in Vietnam, with limestone karsts, serene lakes, rice paddies, and bamboo forests. The region's natural beauty impressed Dr Gledhill. An idea was born.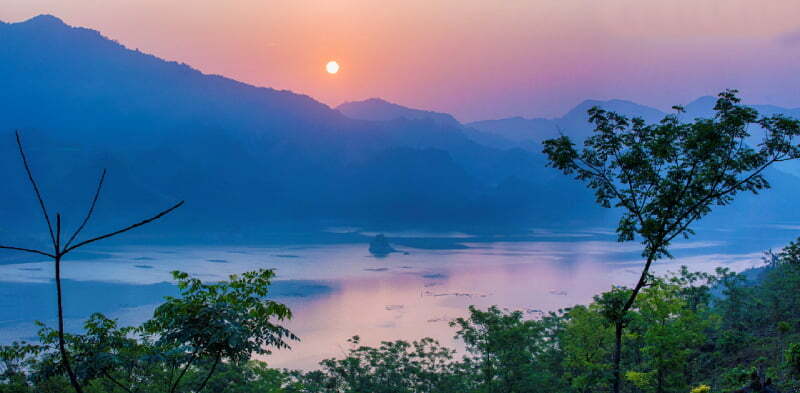 Leading with passion
Guided by AOP, Dr Gledhill built on his own experiences with eco-tourism to develop a model for community-based tourism (CBT). This is an ethical and sustainable model for tourism, that local communities own and manage.
Supported by Dr Gledhill, AOP helped three villages in Da Bac trial the CBT model. The project helped local families start businesses such as homestays, and offered training in hospitality, English, and food preparation.
Dr Gledhill went far beyond most philanthropists' involvement with an NGO. Along with contributing multi-year grants to the project, he took a self-funded study trip through the region. He provided feedback on the design of the CBT model and participated in crucial meetings with Vietnamese authorities.
In 2015, Dr Gledhill joined AOP for a trial trek between the three participating villages, which provided many businesses with their first customers.
Since 2015, the CBT project in Da Bac has attracted over 20,000 visitors (more than 7,000 international) and generated $450,000 in revenue, directly benefitting over 6,000 people. Participants invest some profits into a community fund that is used for infrastructure upgrades.
Community-based tourism in Da Bac lifts three generations out of poverty
Inspiring generosity in others
CBT in Da Bac is now a registered social enterprise and won the ASEAN CBT Award in 2019 for its outstanding product, with local women such as Trang taking the lead in community development.
AOP has also attracted additional funding from governments, corporates and private foundations to scale up the project in six more districts, helping thousands more people on their journey out of poverty. None of this would have been possible without Dr Gledhill's vision, passion and generosity.
Inspired by Dr Vance Gledhill to take action on poverty? Find out more about our philanthropic partnerships
You do not have to be a large corporate or state to support, simply someone who wants to help.
Impact stories
Meet inspiring changemakers from across the world who are working with Action on Poverty to build a more just and equal world.
View more stories
Subscribe to our newsletter