Fish farmers in Vietnam unite
Mr Duy and his family live in a remote village in Da Bac in Vietnam's mountainous north-west region, where over 42% of people live below the poverty line.
Mr Duy had to give up his dream of higher education to support his family. Although he worked hard to make a living, the income from growing corn on his small plot of land barely covered the basics.
A hand-up, not a hand-out
In 2017, Duy joined his local Village Savings and Loans Association (VSLA) and took out a micro-loan to start a bee-keeping business and fish farming business. The loans helped Mr Duy with the start-up costs, such as purchasing fish cages, while AOP linked him with training in the technical aspects of each business model.
This year, Mr Duy earned $13,000 from bee-keeping and fish farming and wants to expand both businesses. The Chairman of Da Bac District People's Committee awarded Mr Duy a certificate acknowledging his achievements in livelihood development – a tremendous honour.
With his ambition and work ethic, Mr Duy has fast become a role model for other farmers who want to replicate his success.
"We built our life starting from scratch. We always want to work hard and do our best."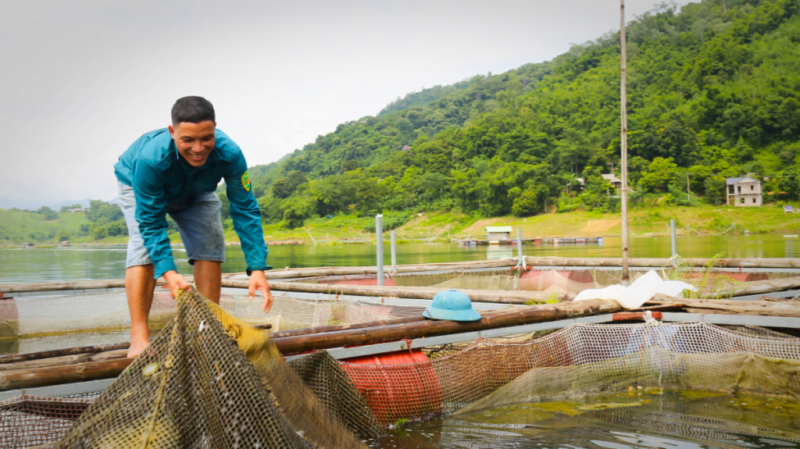 Fish farmers in Vietnam stronger together
Mr Duy and five of his neighbours formed a fishing collective, working on 24 large fish cages on Hoa Binh Lake. They sell their fish at local markets and distribute the profits amongst themselves, keeping some aside to manage and expand the business.
"Our fish production now is 18 tonnes and we won't stop at that," Mr Duy said.
The collective has also joined the Da River Fisheries Association (DRFA), which consists of 219 fish farmers working together to take advantage of new market opportunities and increase their income together. Since its launch, the Association has entered contracts with three companies and the Da Bac fish brand is establishing a strong reputation.
This project is supported by Irish Aid and by the Australian Government through the Australian NGO Cooperation Program (ANCP).
Support our livelihood programs
Donate now to help more people like Mr Duy access micro-finance and start a business.
We built our life starting from scratch. We always want to work hard and do our best.
This project was supported by:
Impact stories
Meet inspiring changemakers from across the world who are working with Action on Poverty to build a more just and equal world.
View more stories
Subscribe to our newsletter