"A dengue-free future motivates me to join the project"
In Vietnam dengue is endemic throughout the southern region and central coast. On average more than 90,000 cases are recorded every year – 70% of them in the south. But hundreds of thousands more cases will go undetected.
As there is currently no effective vaccine against dengue and no specific treatment for the disease, controlling and preventing dengue fever outbreaks are essential steps for keeping people healthy. Action on Poverty, World Mosquito Program and Pasteur Institute are partnering in implementing the Wolbachia method – a new, natural and safe method eliminating mosquito-borne diseases, including dengue fever, in 2 cities of southern Vietnam.
But it's difficult for people to accept unknown changes. That's why the first phase of the roll-out focuses on community engagement, ensuring the communities are informed about the Wolbachia method. Only when they are up to speed and onboard will the first mosquito release get the green light to go ahead. This is where community leaders like Mrs Tung play a crucial role.
Helping herself understand first
Mrs Tung lives in My Tho city, Tien Giang province. After retirement, she worked as a volunteer for a ward health station where she lives. Her job in the past decade has been to help her community understand how to prevent transmissible diseases.
Mrs Tung found out about the project when the health station invited her to join the next dengue communications campaign. In contrast to what she had been told before, that the solution to dengue is fewer mosquitoes, this time they were told there would be more.
"How can more mosquitoes prevent dengue? What is the difference inside them?" she wondered. The word "Wolbachia" was then introduced to her.
Wolbachia are safe, natural bacteria present in up to 60% of insect species. When introduced into the Aedes aegypti mosquito, Wolbachia can help to reduce transmission of the Zika, dengue, chikungunya and yellow fever viruses to people.
After a couple of training sessions about the Wolbachia method and seeing the success of the method in other countries around the world, Mrs Tung is hopeful for the same dengue-free future in her city. She decided to roll up her sleeves and be involved in the project as a community engagement volunteer, helping the communities understand the Wolbachia method.
Community engagement
"It takes time and patience," she said.
Helping others to understand the method is harder than she thought. She put herself in their shoes, knowing that their concerns were much like hers in the first days. "I used what helped me understand from the training like friendly phrases, videos and leaflets to explain the method to them. And it worked," she said.
Most of the members of her community have experience dengue fever once. Costly medical treatment for dengue causes financial hardship for them and time spent recuperating also restricts their ability to earn a living.
"Money spent for one dengue patient is as much as the living cost of two people a month. We all hope dengue is no longer heath and financial concern in our community".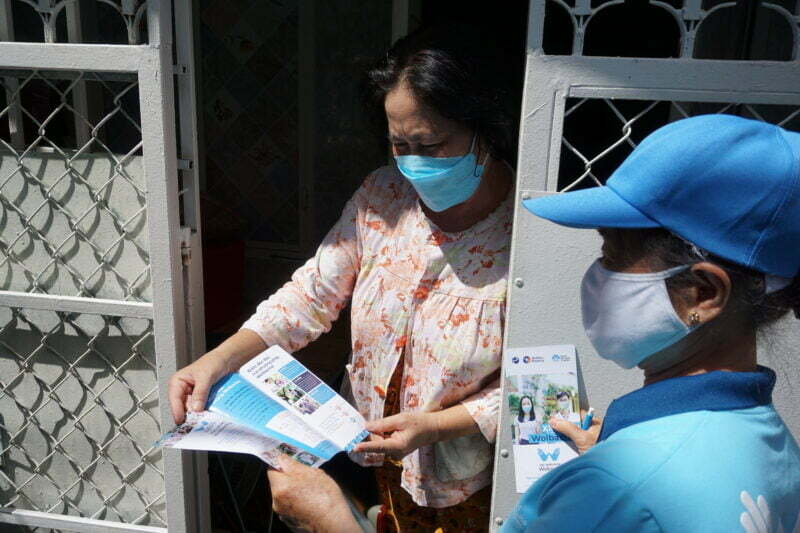 The green light
With contributions from people like Mrs Tung, the project has got the green light. Wolbachia-carrying mosquitoes are being released into the environment at the end of March 2022.
After the initial release, the natural bacteria is passed from one generation to the next. Over time, more and more mosquitoes carry Wolbachia, reducing their ability to transmit viruses to people. Once we release them there's no need for reapplication, the mosquitoes do the work for us, helping communities reduce the costs of fighting dengue outbreaks.
Mrs Tung and her community are ready to welcome Wolbachia. "We want to meet them (Wolbachia-carrying mosquitoes) in person," she said.
The World Mosquito Program is supported by the Australian Government through the Australian NGO Cooperation Program (ANCP).
"Money spent for one dengue patient is as much as the living cost of two people a month. We all hope dengue is no longer heath and financial concern in our community".
This project was supported by:
Impact stories
Meet inspiring changemakers from across the world who are working with Action on Poverty to build a more just and equal world.
View more stories
Subscribe to our newsletter